Main content starts here, tab to start navigating

Slide 1 of 2
Slide 2 of 2
What Is Elsewhere?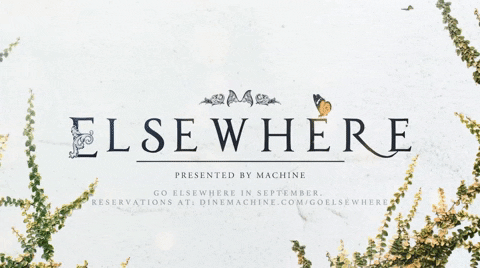 Machine: Engineered Dining & Drink Presents..
Summer feels like it's nearly over before it's even begun, so Machine has created a pocket in the city where we can bring the innovation and inspiration from our Wicker Park retreat into the bustling neighborhood of River North. Located on Chicago Avenue, between Wells and Franklin, Elsewhere is a pop-up experience to extend your summer, stay refreshed, indulge, and unwind.
An open-air space in the heart of River North where we will be serving our globally-inspired, modern-American cuisine and featuring our innovative craft cocktail program. Our team consists of some of the sharpest & untapped minds this city has to offer. The only way to challenge ourselves is to push the boundaries that have imprisoned tradition; the only way to introduce our creativity is to challenge you. Every offering has been thoughtfully engineered for a new open air dining & drinking experience.
For Inquiries or General Questions, Please Email Elsewhere@MachineHospitality.com
When booking a reservation for our patio, we ask that you keep in mind that our ability to seat and honor that reservation is entirely dependent on clement weather conditions. Should rain, wind, or other weather make the patio unwelcoming to seat, we reserve the right to cancel or amend all affected parties without prior notice. We appreciate your support and understanding as we navigate this and future phases of reopening together.
Hours of Operation
Monday-Tuesday & Friday 6pm-Midnight
Saturday-Sunday Noon-Midnight